News — Purple Hive Project
• Bega Cheese • Bhoney • Purple Hive Project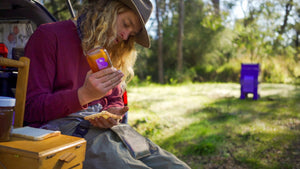 ASX listed food company, Bega Cheese, has launched a range of pure Australian honey products in Coles Supermarkets branded Bhoney.
Sourced exclusively from Australian beekeepers, the honey has a distinctive purple themed packaging.
And the launch has been supported with an innovative demonstration of new technology that could provide early warning of Varroa mite infestation.