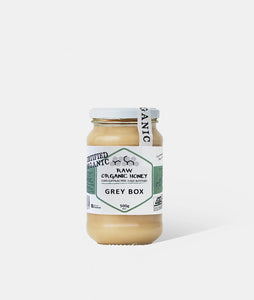 Raw Honey Company
Raw organic greybox honey
Regular price
$11.00
$0.00
Tax included.
Shipping
calculated at checkout.
Wonderfully delicious greybox raw organic honey bottled cold, and unfiltered, preserving all the natural flavour and goodness of 100% pure honey.
Greybox honey is a sweet, mild-flavoured honey sure to please adults, children, and indeed any honey lover.
Each jar contains 500gms of this delicious honey.
The honey has been created by the bees gathering nectar from flowering Eucalyptus Microcarpa gums in northern Victoria's Heathcote Graytown National Park.
It has been processed completely cold, without any of the usual warming or heating done during extraction and bottling.
It has also been minimally filtered, filtering out only the largest pieces of wax and/or detritus  left over during extraction.
This ensures a maximum of nutrients and goodness has been retained in the honey, including all the pollen, vitamins and enzymes found in natural honey.
The Raw Honey company are a small, family based, apiary with their headquarters and operations near Nalinga in north central Victoria.
They are dedicated to the production of raw and mono-floral honeys to ensure the finest quality product, with maximum of natural health benefits.
Certified Organic
Presented in a recyclable glass jar with a re-sealable metal lid this honey is certified organic by AUS-QUAL, and meets the National Standard for Organic and Bio-Dynamic Produce.
Please note: Raw honeys crystallize readily, and are normally supplied in a candied (i.e. already crystallized) form. If you prefer your honey more liquid just stand the jar in a saucepan of hot (not boiling water). 
---
Share this Product
---
More from this collection