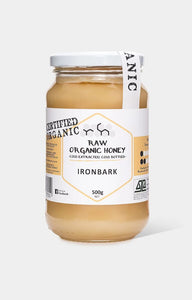 Raw Honey Company
Raw organic ironbark honey
Regular price
$11.00
$0.00
Tax included.
Shipping
calculated at checkout.
Scrumptious raw organic honey bottled cold, preserving all the natural flavour and goodness of 100% pure honey.
Ironbark honey is a sweet, mild-flavoured honey very popular with Australian families and honey lovers.
This honey is a lovely light golden colour, with a soft texture and consistency.
Each jar contains 500gms of this delicious honey.
The bees that made it harvested the nectar from flowering Eucalyptus Tricarpa gums in the  Rushtown state forest (north central Victoria).
So this is a genuine wild, forest honey, totally pure and natural without any man-made chemicals or taint.
The honey naturally candies into an almost pure white, creamy form that is surprisingly soft. (It will, of course, return to a clear, liquid state with heating. However heating will inevitably destroy at least some of its natural goodness and is not recommended).

About The Raw Honey Company
The Raw Honey company are a small, family based, apiary with their headquarters and operations near Nalinga in north central Victoria.
They are dedicated to the production of raw, mono-floral honeys to ensure the finest quality product, with maximum of natural health benefits.
Presented in a recyclable glass jar with a re-sealable metal lid this honey is certified organic by AUS-QUAL, and meets the National Standard for Organic and Bio-Dynamic Produce
---
Share this Product
---
More from this collection