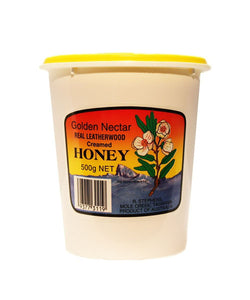 R Stephens
Creamed organic leatherwood honey, R Stephens, 500gms
Regular price
$8.00
$0.00
Tax included.
Shipping
calculated at checkout.
Wow!! Thats what you'll be saying after you experience the smooth and luscious texture of this creamed, organic, Tasmanian leatherwood honey.
Creamed honey is special.
Its normal honey that has had a small drop of already crystallized honey added to it.
The drop slowly spreads the crystallization throughout all the honey and turns it into what we call creamed honey.
Sometimes the honey is whipped as well, to give it that perfect uniform creamy texture.
The result is a firm, smooth honey that is easy to spread on bread, toast, crumpets or pancakes.
This particular creamed honey has been created from leatherwood honey.
So it has the characteristic distinctive flavour and wonderful scent of leatherwood honey.
It also certified organic by the Organic Food Chain
Produced by R Stephens, Tasmania's largest leatherwood honey producer, the honey comes from the pristine Tarkine forests of north-west Tasmania,
It is 100% pure and natural.
Enjoy this unique honey as the essence of Tasmania.
---
Share this Product
Best honey ! love it . Will order again.
Cissy
My mother would bring home this creamed honey when she went into town in the 1950s. It would be a slab of honey bought at Myers food hall with the typical cream surface but then it was wrapped in waxed paper. What a treat. Thankyou for your service
---
More from this collection